The VMAR XTREME STIK SPORT 40-52 ARF ECS SHOULDER WING is capable of XTREME aerobatic maneuvers particularly when used with 4 servos in the wing and a computer radio to control flaps and ailerons (flaperons are possible also). Designed for low cost fun, the XTREME STIK SHOULDER WING uses a fully symmetrical airfoil and no dihedral. Perfect for intermediate flyers or those who have mastered an advanced Trainer.
Trike gear gives excellent ground handling and avoids the need for the RC pilot to learn how to handle a tail dragger.
Given that we wanted the VMAR XTREME STIK to be easy to set up and get into the air quickly we've pre-installed our new composite clamp style engine mount to fit most popular .46 two stroke engines including our hot new VMAX 46PRO. For those of you who want to go with a larger engine for more power or for use at fields at higher altitude try our VMAX 52PRO. No Drilling required for most popular .40-.52 2 Stroke Engines!
The new VMAR XTREME 40-52 SPORT 40-52 ARF ECS utilizes the revolutionary Ultratough POLYCOTE ECS Enhanced Covering System.
What is POLYCOTE ECS?
POLYCOTE ECS is a brand new Enhanced Covering System engineered in Canada specifically for use only on VMAR ARF models!
POLYCOTE ECS is a complete proprietary system that utilizes Ultratough Polyester, enhanced graphics and detailing inside the covering and very minimal Sure Seal Seams to produce a totally fuel proof, high strength, lightweight, ultra durable covering.
POLYCOTE ECS is toughest polyester based system ever used on a model! The graphics and detailing are inside the POLYCOTE... not stuck on top! No Decals! No Layers! No Strips! No Stripes! No Drag!
The new VMAR XTREME 40-52 SPORT ARF ECS utilizes POLYCOTE ECS to ensure that you have the best in covering and that the detailed graphics stays looking as good as new for the life of the model! Better yet... we've blended transparent over open bays and some solid surfaces with solid Opaque white and other trim colors to give you a strikingly good looking and highly visible model.
For more information please click on the POLYCOTE ECS Logo below.
POLYCOTE ECS... Only from VMAR Manufacturing!
Affordable RC Products... Engineered by Modellers... for Modellers!
High Visibility Graphics!

Covered with POLYCOTE ECS in a unique blend of Transparent and Solid Opaques to give you a stikingly beautiful and high visiblity model!

(Click on Image for HiRes Version)

(Click on Image for HiRes Version)

(Click on Image for HiRes Version)

(Click on Image for HiRes Version)

Pre-installed Engine mount fits our VMAX-46PRO (recommended) and VMAX-52PRO (for more power or higher altitude flying fields) and most popular .40-.52 2 Stroke Engines
In addition to using POLYCOTE ECS, nothing even comes close to the incredible attention to detail, completeness and quality provided by VMAR.
Features:
All Wood Built Up Construction! Extensive use of Light Weight Balsa and Lite Ply!

POLYCOTE ECS Enhanced Graphics System! All Graphics is inside the Covering!

Pre-hinged Control Surfaces... Factory Installed and Pinned!

Control Rods pre-installed!

Fully-Symmetrical Sport Aerobatic Wing with no Dihedral!

Full Color Illustrated Assembly Manual

Very Complete High Quality Hardware Pack!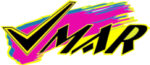 Quality Engineered by Modelers for Modelers!
Only from VMAR Manufacturing... setting the standard in Affordable RC products.
This is a hot item! Get your order in today!
Includes:
VMAR Universal Servo Tray for Airtronics, Futaba, JR, Hi-Tech standard servos
Pre-installed composite Engine Mount! NO Drilling Required!

Pre-installed Pushrods and Control Surfaces!

Metal CNC made Clevises!

3 Line Fuel Tank with stopper, clunks & metal safety cap!

Metal epoxy painted Spinner!

All Hardware!

Wheels!

Full Color

Assembly Manual

!