POLYCOTE ECS is a proprietary Enhanced Covering System engineered in Canada & available only from VMAR

. With POLYCOTE ECS the graphics are inside the covering... not stuck on top. No Decals! No Layers! No Strips! No Stripes! POLYCOTE ECS utilizes ULTRA TOUGH polyester and our SURE SEAL system to ensure that the seams stay down! Best of all POLYCOTE is totally fuel proof! Quite simply... POLYCOTE ECS leads the pack in ARF covering systems!

By putting the graphics where they belong... inside the POLYESTER covering... we've reduced the need for maintenance to a minimum. No seams to pick up, very few edges, extraordinary fuel proofing etc. With POLYCOTE ECS you will spend more time flying and less time reworking the covering!

Polyester offers the best in covering performance!

?

You Bet! Nothing beats having the real thing to look at but even on the web you can see the difference. Check out the image below of the VMAR Edge 540T 45-60 ARF ECS using POLYCOTE ECS. Zoom it out by clicking on the image. Now look carefully at the yellow on blue star field and the stylized US Flag and you will see gradient composite colors... possible ONLY with POLYCOTE ECS from VMAR!.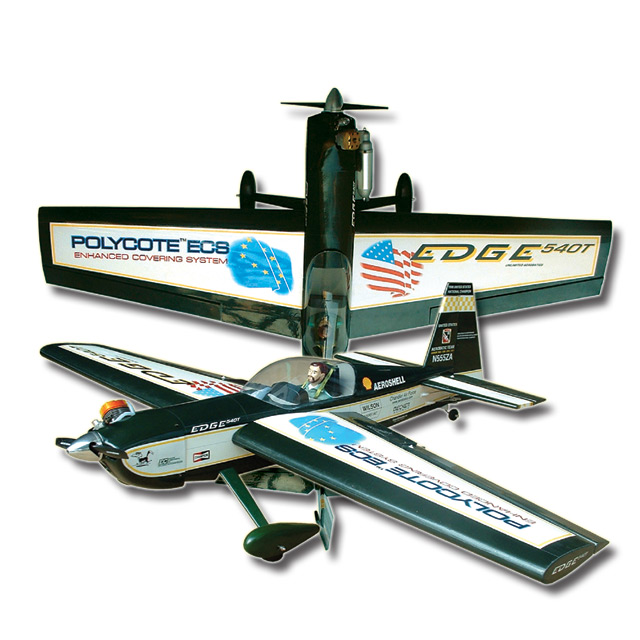 (Click on Image for HiRes Version)
Here is the tail detailing on the VMAR Edge 540T 45-60 ARF ECS using POLYCOTE ECS. With any other covering system this type of detail would be done using decals, overlays and stripes. Worse yet, the factory would leave it "blank" and you would have to do the tedious hours long task yourself. With POLYCOTE ECS all the graphics are inside the covering where they belong. The graphics are totally fuel proof beneath a factory applied rich deep lustre clear layer of POLYCOTE ECS! No decals! No Layers! No Strips! No Stripes! No work! Nothing to peal up, flak off or snag when you clean your model. ONLY with POLYCOTE ECS from VMAR!.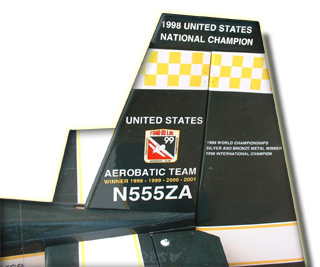 How do I care for POLYCOTE ECS?
It's Easy! Please click Here.
POLYCOTE ECS... Only from VMAR Manufacturing!
Affordable RC Products... Engineered by Modellers... for Modellers!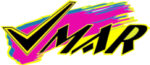 VMAR and POLYCOTE are Trademarks of VMAR Manufacturing Inc. and authorized VMAR Agents worldwide.
©Richmond RC Supply Ltd. All Rights Reserved. Unauthorized commercial use strictly prohibited.
Prices, Specifications, Features and Availability subject to change without notice
Production Colors and Graphic Schemas may differ from that shown.
Artwork, text and information for the use of consumers and Richmond RC customers only
For information contact webmaster@richmondrc.com
2006-02-18 20:28:24