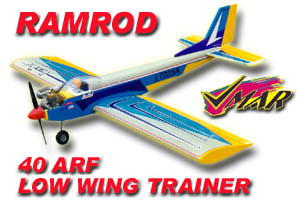 Other Items - Needed
The following items are considered essential for the satisfactory and safe operation of the VMAR Ramrod 40 ARF Low Wing Trainer. Model aircraft, model engines and model engine fuel can be hazardous if improperly used. See Safety equipment noted below.
Engine
Propeller

Suitable for engine size.

Glow Plug

Suitable for engine size and type.

Fuel
Fuel Line suitable for Fuel

#DUB-222 (2 ft. Silicone) for Glow Fuel, or
#DUB-225 (3 ft. Neoprene) for Gas, Oil, Diesel or Glow Fuel

Safety Equipment suitable for working around Model Engines.

Eye Protection.
Finger Protection.
Ear Protection.

Tools

Please Check Again Shortly.
Please Check Again Shortly.
©Richmond RC Supply Ltd. All Rights Reserved. Unauthorized commercial use strictly prohibited.
Prices, Specifications, Features and Availability subject to change without notice
Production Colors and Graphic Schemas may differ from that shown.
Artwork, text and information for the use of consumers and Richmond RC customers only
For information contact webmaster@richmondrc.com
2000-04-15 23:11:38