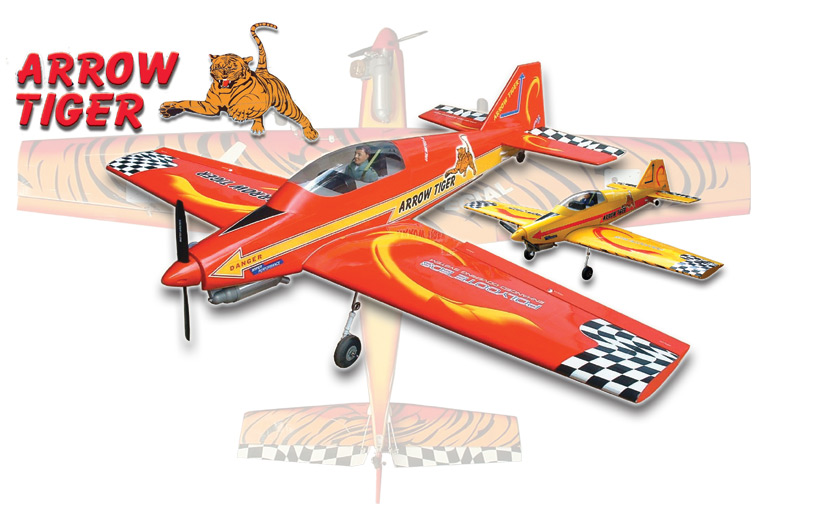 The VMAR ARROW TIGER 46-52 SPORT AEROBATIC ARF ECS has been designed for Sport Flyers who love speed, knife edge fly-bys and aerobatic maneuvers that even have the pattern flyers paying attention! The symmetrical wing and the big rudder allows for just about any maneuver and terrific knife edge performance!
The VMAR design team has put some pure-bred DNA into this Tiger that just doesn't quit! Factory installed heavy duty EZ Engine Mount, tapered nose on a 3D rounded fuselage, all wood construction (thats right NO FOAM), knife edge rudder, pinned heavy duty composite hinges, cloth dressed pilot, knock 'em dead good looks and slick smooth performance that can't be beat!
Works great with our VMAX 46PRO engine and most popular .40-.52 size 2 stroke engines. Really hauls with our VMAX 52PRO engine! We've even scooped out a cavity on the bottom of the fuselage for the VMAX tuned muffer and many other mufflers to partially recess into.
With our industry leading "BUY & FLY" completeness you can be in the air within hours! We have pre-done just about everything for you! It's built, covered, trimmed (no decals needed) and we've installed the pilot, canopy, universal servo tray, pushrods and control surfaces at the factory!
We've even pre-installed the engine mount and included a MUFFLER RECESS in the bottom of the fuselage to fit most popular .46-.52 two stroke engines including our hot VMAX 46PRO and power winning VMAX 52PRO!
The VMAR ARROW TIGER 46-52 SPORT AEROBATIC ARF ECS utilizes the revolutionary Ultratough POLYCOTE ECS Enhanced Covering System.
What is POLYCOTE ECS?
POLYCOTE ECS is a brand new Enhanced Covering System engineered in Canada specifically for use only on VMAR ARF models!
POLYCOTE ECS is a complete proprietary system that utilizes Ultratough Polyester, enhanced graphics and detailing inside the covering and very minimal Sure Seal Seams to produce a totally fuel proof, high strength, lightweight, ultra durable covering.
POLYCOTE ECS is toughest polyester based system ever used on a model! The graphics and detailing are inside the POLYCOTE... not stuck on top! No Decals! No Layers! No Strips! No Stripes! No Drag!
The new VMAR ARROW TIGER 46-52 SPORT AEROBATIC ARF ECS utilizes POLYCOTE ECS to ensure that you have the best in covering and that the detailed graphics stays looking as good as new for the life of the model!
For more information please click on the POLYCOTE ECS Logo below.
POLYCOTE ECS... Only from VMAR Manufacturing!
Affordable RC Products... Engineered by Modellers... for Modellers!
| | |
| --- | --- |
| Looks like the real thing! | |
| | This Tiger has earned it's stripes! |
| Cockpit Detailing includings Instrument Panel, Pilot, Harness etc! | |
In addition to using POLYCOTE ECS, nothing even comes close to the incredible scale detailing offered by VMAR!
Features:
All Wood Built Up Construction!

POLYCOTE ECS Enhanced Graphics System!

Pilot

and

instrument panel etc! All pre-installed!

Simulated Wheel struts factory installed

!
EZ MOUNT! Just tighten down your engine and go flying!
Scale like rendition

of panel lines, rivets and graphics

!

Pre-hinged Control Surfaces... Factory Installed and Pinned!

Control Rods pre-installed!

Full Color Illustrated Assembly Manual

Recess for muffler to streamline bottom air flow!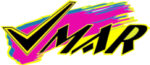 Quality Engineered by Modelers for Modelers!
Only from VMAR Manufacturing... setting the standard in Affordable RC products.
This is a hot item! Get your order in today!
Shipping to retailers and consumers NOW!
Includes:
EZ MOUNT pre-installed engine mount. Heavy Duty clamp type T-Beam engine mounts
VMAR Universal Servo Tray for Airtronics, Futaba, JR, Hi-Tech standard servos!
All Metal Pushrods with Metal Clevises!
All Hardware, spinner, wheels, gear struts and tank included!

Full Color

Assembly Manual